OUR PURPOSE
Established by family and friends of Homaira Rahman as an enduring tribute to her, HRF is a non-profit charitable organization dedicated to supporting the most vulnerable of Afghanistan – its orphans.
HRF is a humanitarian organization that recognizes the need to preserve, and protect a child's right to unimpeded development with an emphasis on education.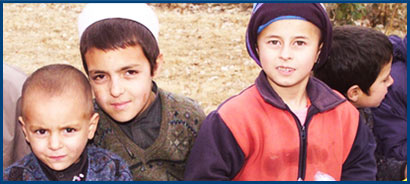 OUR CORE VALUES
We strongly believe a core pillar to achieving long term success in this strife ridden country is by empowering, through education, hope for its youngest generation.
Espousing universally held principles that support child survival, protection, and development, we help build sustainable capacity through a comprehensive grassroots program.
We embrace Afghanistan's diversity, and believe in a truly apolitical approach that remains indiscriminate of race, ethnicity, religion, and gender, will ensure the greatest success.
Join us for HRF's 4th Annual Online Fundraiser Benefiting the Homaira Rahman School on

December 5th & 6th 2015!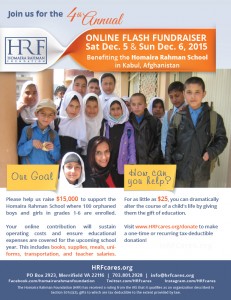 "HRF strives to provide the resources and opportunities  for children to help themselves, and to create a nurturing environment where  they can learn, thrive and grow."
HELPING TO EMPOWER AFGHANISTAN'S ORPHANS
WATCH OUR STORY: