Summer 2016 News
It's been almost three years since the Homaira Rahman School opened its doors to the orphans of Kabul. Thanks to your support, more than 100 marginalized boys and girls in grades 1-6 now have the opportunity to take charge of their own destinies and improve their lives through learning. We have always believed that the education of both boys and girls is critical to overcoming poverty and the oppression of women in Afghanistan, and the key to unlocking its vast economic potential in the global economy. Unfortunately most children still don't have access to schooling across the country – our students are some of the lucky ones. They have quality teachers, books, supplies and a safe place to learn at their own pace. Our representative in Kabul, Tooba, visited the school in late May and was heartened to see the rapid progress that the children have made in a short period of time – particularly in terms of the English and computer skills they have acquired. Because it's precisely these skills, along with math and science which are also taught, that will enable them to compete in the modern world. The kids also participate in art classes as a source of fun and to explore their creativity. We will continue to strive to provide our students with the kind of balanced and broad-based education they need in order to prepare them for the complex challenges that lie ahead.
In June, HRF gave grants to three 501 c3 Afghan orphan-focused organizations: Omeid International – to help a group of young boys travel to India to further their education; Sana Orphanage in Kandahar – to provide the 50 orphans in their care with basic necessities; and OWA, our partner organization – to help them purchase food and school supplies for their students. All three organizations embody HRF's core values and mission and we were pleased to extend them a helping hand.
The month of August was a very busy one for the students of the Homaira Rahman School as they prepared for and took their midterm exams. We decided to treat the kids to a pizza party following the exams, which was an interesting experience for them. Most weren't sure how to eat the pizza, whether to use forks and knives or not; but they had lots of fun trying something new and different and celebrating the completion of their midterms. We also honored four students who have reached the highest level of academic achievement this year.
Back to School- April 2016
Springtime in Afghanistan is a welcome relief from the harsh realities of winter. It's the start of the Persian New Year (Nowruz) and typically a festive occasion – although this time the celebrations were tempered somewhat by fears of violence and economic instability. For students, the arrival of spring also signals the beginning of the new school year, which brings with it opportunities for growth and endless possibilities. After a three-month winter break, the children at the Homaira Rahman School are genuinely excited to be reunited with friends and classmates and look forward to another wonderful year of learning together. The arrival of new entrants (first graders) has also helped to energize the school. We hope that this academic year is filled with positive experiences for our students, and we will do everything we can to ensure their happiness and success.
 As of May 1, total student enrollment stands at 92. We're gradually reaching full capacity as students are slowly filtering back into school, some from remote areas who were forced to stay home due to poor weather conditions. To create a better learning environment, the classrooms were fitted with new horizontal blinds which will control the amount of light entering the teaching spaces, and several computers were repaired during the winter vacation. Also, we've hired three new teachers to replace three that departed recently and we are blessed to have some extremely dedicated and resourceful people who are operating the school and making sure that it's running as smoothly as possible. We owe them a huge debt of gratitude. It's their hard work and commitment that will help build much brighter futures for the orphaned children in our care.
The HRF Learning Center at the OWA school in Kabul has just hired a new English and computer teacher. We're very pleased with the progress that the students are making there. They are gaining the kinds of skills and self-confidence necessary to become valued and contributing members of their communities one day.
February 2016 Update
As cold weather and power outages continue to cause severe hardship across Afghanistan, the Homaira Rahman School will remain closed for the winter break until March when warmer weather sets in. While everybody is affected, the icy winters take a particularly heavy toll on children and many succumb to hunger, disease and exposure every year. To help make vulnerable children a little more comfortable, HRF sent $1,000 to the Orphans and Widows Association (OWA) to purchase food and other essential supplies; and $1,000 in early February to the The Children of War (TCOW) which was used to buy charcoal for internally displaced people (125 families) living in a makeshift settlement outside Kabul to help keep them warm and provide fuel for cooking. The charcoal was distributed to the neediest families who were grateful because their windswept homes offer little protection from the bitter cold. HRF extends humanitarian assistance annually to orphans and vulnerable families to help them deal with winter emergencies.
In a related development, HRF recently funded a micro-project which enabled rural Afghan women – a marginalized group – to use their talents to generate income. A group of 10 women in Dashtebarche (Kabul Province) made 100 beautiful blue and white scarves embroidered with the HRF logo – one for each orphaned student at the Homaira Rahman School to keep them warm. HRF compensated ($800 collectively) these kind ladies for their efforts. This small amount of money will help sustain them through the harsh winter, but more importantly, it will give them hope that they can use their skills to provide for their families. There are few economic opportunities for rural women in Afghanistan and most families live in extreme poverty. With marketable skills like sewing, they can bring a measure of stability to their households and empower themselves in the process.
We are happy to announce that the bakery whose construction we funded ($4,500), as part of a larger community development and empowerment project on the outskirts of Kabul, has just opened. The bakery contains a kitchen and space to make bread for the entire community. It is expected that 100 families – typically 4-5 people per family – will eventually live in this small hamlet and have access to the bakery. Most families have already moved in to their homes; the remainder will do so in the Spring. It's very important for us that orphans and vulnerable children, who face a precarious existence, will benefit tremendously from this initiative. Many children in Afghanistan die from hunger and malnutrition. This bakery will provide them with free, nourishing food which will allow them to grow physically and mentally. Our involvement in the project will be limited to a one-time contribution that was used to build the bakery.
HRF intends to start a small vocational training program at the Homaira Rahman School in the near future to help graduates as they transition to a life beyond our primary school. We hope to offer them choices and teach them income-generating skills which they can use to improve their lives immediately. We'll keep you posted.
In January, HRF President Roya Rahman attended an event at the Afghan Embassy in Washington D.C. that aimed to bring together the diaspora, especially those involved in Afghan- focused nonprofit organizations. It was a great opportunity to network with dedicated individuals to see how their diverse talents and dynamism could be used to better serve people in their embattled homeland.
HRF Awarded Generous Grant by Greater Milwaukee Foundation's Fohr Family Fund- January 2016
We are very pleased to announce that HRF is the recipient of a generous $4,000 grant from Greater Milwaukee Foundation's Fohr Family Fund. This grant will be used to provide essential school supplies, teacher salaries and nourishing meals for orphaned students at the Homaira Rahman School, and may also be utilized for humanitarian or emergency aid. We are deeply grateful for the Fund's contribution, and we thank them for recognizing the inherent worth and dignity of Afghanistan's marginalized children. We couldn't possibly help these kids without such kind support.
HRF's 4th Annual Online Fundraiser Hits Target
Thanks to an incredible outpouring of generosity and compassion from our devoted supporters, we are proud to announce that our 4th annual online Flash Fundraiser, held on December 5th & 6th 2015, reached its goal again this year! Together we raised over $15,000 to help sustain the daily operations of the Homaira Rahman School in Kabul, Afghanistan and provide its 100 students in grades 1-6 with the resources and skills they need to succeed in the classroom and in life. We are profoundly grateful to and humbled by everyone who participated in this important yearly event which leverages social media to bring awareness to the plight of orphans and amplify our message of empowerment through learning. Your continued kindness will allow us to protect and assist some of Afghanistan's most disadvantaged children and meet their diverse needs. These innocent victims of violent conflict face a steep uphill climb, coming of age in one of the most dangerous and unstable environments imaginable. Neglected and emotionally-scarred, the vast majority will tragically be subjected to abuse and exploitation and denied access to school and hope for the future. Girls are especially at risk. But through the priceless gift of education that you're providing, a lucky few, of the more than 2 million orphans scattered across the country, will have a viable path out of crippling poverty and a chance to grow to adulthood with their dignity intact.
Your financial assistance has already enabled us to double our student intake in two short years of existence and is critical to the long term well being and vitality of our school. On behalf of the young boys and girls we serve, thank you so much for making this work possible.
HRF Joins Effort to Deliver Humanitarian Aid
To help the survivors of a deadly earthquake that shook northern Afghanistan in late October 2015, HRF partnered with four other Afghanistan-focused nonprofit organizations – The Children of War; Raqim Foundation; Kinder Afghanistan; and Afghan Education for a Better Tomorrow – in a show of solidarity and to maximize impact. Together we raised $17,000 to purchase food and blankets for 1,700 people. The Children of War (TCOW) led the relief effort to the Gurm district of Badakhshan Province and neighboring villages, which experienced some delays due to worsening security and poor road conditions, and distributed the supplies to villagers who were grateful and delighted to see that help had finally arrived. Ours was the first humanitarian mission to reach that remote area in more than one month. Your kind support made this possible. We thank you for believing in our work!
Fall 2015 News
The Homaira Rahman School marked its second year of operation in Kabul in September 2015. Our primary objective is to help extremely disadvantaged children escape the endless cycle of poverty. We challenge our students to engage with and explore the world around them, which will help them grow as individuals and develop critical thinking and leadership skills. We're continuing to making great strides in year two thanks to your generosity. Our liaison in Kabul, Tooba, visited the school in the summer to better understand students' individual needs. The kids, some soft-spoken, others more animated, opened up about their hopes and ambitions and personal struggles and triumphs. In a country where opportunities for vulnerable children are scarce, they realize how lucky they are and believe that education will give them a bright future. Their stories of perseverance and determination are inspiring and spirit lifting – especially the little girls who are pursuing their education tenaciously despite tremendous odds.
Afghanistan also celebrated Eid al Adha in September; so in the spirit of Eid, HRF sent the students of the Homaira Rahman School a small monetary gift as a token of our appreciation for all their hard work and successes. Giving gifts to children during Eid is among the most cherished customs in Afghanistan. We hope we made their celebration a little merrier and more special. In addition, HRF made a contribution to The Children of War's Qurbani Service. Donations to this 501 c3 nonprofit organization's Qurbani Service will be used to distribute food to thousands of needy families across Afghanistan.
In August 2015, with your help, HRF was able to extend urgently needed financial assistance to an orphanage/school in the southern city of Kandahar, a former Taliban stronghold, which is beset by chronic poverty and underdevelopment. 50 young orphans – all without a surviving parent – benefited from this grant, which provided them with food and other essential supplies.
Earlier in the summer HRF agreed to fund the construction of a small bakery which will be a part of a community development and empowerment project benefiting 100 families just outside Kabul. Construction is ongoing. When completed, the bakery will provide skills to members of the impoverished community and feed them as well. HRF's participation in this initiative is limited to the awarding of a financial grant to our partner nonprofit organization, Orphans & Widows Association (OWA). This will not be a money-making /commercial enterprise for us or OWA. The goal is strictly to make available housing, employment and educational opportunities for the rural poor.
On behalf of the energetic and eager children we serve, we would like to express our sincerest gratitude to our loyal and caring supporters who make our work possible.
June 2015 Update
We are excited to announce that, with the enrollment of 25 additional children in May 2015, the Homaira Rahman School has reached its full grade span of 1-6 with just over 100 students. We want to thank our supporters for their continued generosity and commitment to our school, which opened its doors in 2013 with 50 students in first through fourth grades. Your involvement has allowed us to expand the school gradually, accommodating more pupils each year, and grow into a full fledged primary school for Kabul's orphans in 2015. Our aim is to help improve the quality of life for severely disadvantaged children and prepare them for the many challenges ahead through education.
HRF strives to ensure that orphans and vulnerable children have all the resources they need to succeed both inside and outside the classroom and enhance their standard of living. Recognizing that well nourished children perform better in school (helps them in their mental, physical and social development; they will have the energy to learn better when they're not starving and worried about where the next meal is going to come from), HRF has recently agreed to fund the construction of a small bakery in Kabul, at the Sharakeh Dareecha Noor in Qalay Haidar Khan, which will be an integral part of a community development and empowerment project benefiting 100 families (a total of 400-500 people). Led by the nonprofit Orphans and Widows Association, our partner organization with whom we continue to collaborate, this initiative will improve social and economic conditions for the rural poor – especially orphans and marginalized children. We believe firmly that in order for education and literacy to be sustainable, it must occur as part of a broader development and poverty reduction agenda, which is what this project hopes to achieve – providing housing, employment opportunities, access to food and other resources to needy people. So far about 36 families have been moved into their homes in the community; the bakery is expected to be completed within a few months.
Progress Report From Kabul – April 2015
HRF President, Roya Rahman recently visited Kabul to check on the progress of the Homaira Rahman School and ensure that the children are in an environment that's supportive, safe and conducive to learning. While she was dismayed to discover that Kabul's vital public infrastructure is still in a state of disrepair or not working at all, she was heartened to see that the students are thriving and very eager to learn despite the heartbreaking poverty and misfortune confronting them. The city continues to be plagued by shortages of water and power, which means that electricity at the school is intermittent, but the children in this primary school go about their studies undaunted and determined more than ever to achieve their dreams thanks to your unyielding support and generosity. One adorable, bright-eyed little girl even described her plans to become a doctor one day and help her fellow countrymen.
Roya sat down with students, 75 orphans in all (boys and girls) – some of the poorest and most vulnerable children in Afghanistan – to better understand their challenges and needs, and was deeply moved and inspired by their stories of perseverance and personal sacrifice. Your generous contributions allowed her to purchase brand new backpacks for each child, which they accepted with obvious delight, their beautiful smiles lighting up the room. She watched as some of the young students wrote personalized letters to our supporters thanking you for creating these wonderful opportunities for them, which they understand, even at their tender ages, will dramatically improve the quality of their lives. She met with the faculty and staff to collect feedback and offer guidance on the daily operations, and supervised the painting of a sign on the front facade of the building. And since the school has just expanded to include a sixth grade and will soon enroll some first-graders, she purchased 15 desks and chairs for the incoming students. Your financial contributions will also be used for routine upkeep and maintenance on the building and grounds and will ensure the long-term viability of our school.
A small but spirited event was organized where the kids sang the national anthem and recited poetry and Roya publicly thanked OWA for their untiring efforts and partnership with HRF, and expressed her joy at the great strides made by the students.
As Roya prepared to leave the school, having just attended a computer class and an English class where some third-graders were listening intently to their teacher, the kids surprised her by giving her a rousing goodbye – in English, to her astonishment! It was a poignant reminder of the tangible difference that HRF's loyal supporters are making in these young and fragile lives. You have helped create a warm and nurturing atmosphere that fosters individual growth and a sense of unity and purpose. These precious gifts will endure and provide much needed hope for the future.
Roya also went to see HRF's Learning Center in Kabul and was deeply impressed. The students there are also learning English and computers, among other skills, and are similarly imbued with a sense of pride and confidence that's infectious.
Homaira Rahman School Marks First Anniversary- September 2014
The Homaira Rahman School officially opened one year ago this month with a simple mission: to change the fortunes of war-torn Afghanistan's most vulnerable children through education.
We began with 50 boys and girls and have welcomed the Fall 2014 class with 75 students and the addition of a 5th grade curriculum. We hope to introduce a 6th grade class in the Fall of 2015. We're already witnessing the transformations our young students have gone through as they've successfully completed one full academic year. Enthusiastic and glowing with pride, the kids have grown more confident, self-assured, and are brimming with curiosity and a desire to learn about the world around them. They're quiet and attentive, as they sit in neat, orderly rows, studying English and math, among other subjects, and can be seen hunched over computer screens acquiring new skills and solving assigned problems – things that seemed unimaginable just a few years ago. It has truly been a humbling experience for us and we are moved and extremely encouraged by these developments.
We will continue to evolve in order to meet the growing needs of our students. HRF owes a debt of gratitude to everyone involved in this project- most of all to our supporters for their generosity and compassion, OWA- our partner organization, and the teachers and staff for their dedication and hard work.
HRF Reaches Five-Year Milestone
April 2014 marked Homaira Rahman Foundation's 5th anniversary! It's been a truly rewarding and humbling journey – one that wouldn't have been possible without your continued support and encouragement.
Since our inception in 2009, we have worked to improve the lives of Afghanistan's neglected children – its orphans – by offering them a future of hope and inclusion through education. To date, we have supported several orphanages, particularly in the cold winter months when food and supplies have been scarce, helping to meet their diverse needs; we have established a Learning Center in a school that contains a library and teaches computer skills and English to young children.
Our biggest achievement, as we've reached this important milestone, is the opening of the Homaira Rahman Elementary School in Kabul in September 2013. Having such a facility has been our primary goal and we are profoundly grateful to our generous benefactor, loyal supporters and the Orphans and Widows Association (OWA), our dedicated partner, for helping to bring it to fruition.
We commend the exemplary efforts of everyone affiliated with HRF and extend our appreciation for your many valuable contributions to the children of Afghanistan.
Panjshir Valley Disaster Relief
In response to a series of deadly avalanches striking the Panjshir Valley in northeastern Afghanistan in March 2015, HRF teamed up with The Children of War, the Raqim Foundation and Afghan Education for a Better Tomorrow (AEBT) and raised $13,000 collectively, used to purchase and personally distribute emergency supplies of food to affected families: 50 kg of flour, 24.5 kg of rice, 5 kg of cooking oil and 1 kg of tea.
More than three hundred people – men, women and children – were killed and many others remain unaccounted for, trapped in the snow, in the worst disaster of its kind to hit this remote area in forty years.
HRF's 3rd Annual Online Fundraiser Surpasses Goal in Support of the Homaira Rahman School- December 2014
In keeping with our mission to empower war-torn Afghanistan's most vulnerable children – orphans – through education, we held our third annual Flash Fundraiser, an intensive 48-hour online event, on Saturday and Sunday, December 13-14. Thanks to a tremendous outpouring of generosity from our loyal supporters, we raised over $17,000 – well above our $15,000 target – and will be better positioned to meet the growing needs of our students, enhancing their learning experience. The proceeds generated during the weekend-long social media campaign will be used to pay for the vital operating expenses of the Homaira Rahman School, which opened in Kabul last year and offers to instruction to 75 orphaned children (boys and girls) in grades 1-5.
Since our inception, HRF has always been a strong advocate for Afghan orphans, a chronically underserved and neglected segment of the population, offering humanitarian assistance and helping to clear the path to a brighter future. But with the opening of Homaira Rahman School in 2013, we hope to make an even bigger impact on their lives – aiming to nurture and develop them to their fullest potential so that one day they can meaningfully participate and lead in their fragile communities. Contributions made to our 2014 Flash Fundraiser will help maintain the long-term financial stability of the school, allowing us to cover all annual educational expenses for the students, including books, supplies, uniforms, lunch, transportation, teacher/staff salaries.
We are grateful and humbled by your continued support, and we thank you from the bottom of our hearts for making this year's fundraiser so unbelievably successful. Your donations will help create life-changing opportunities and hope for severely underprivileged children who would otherwise face the bleakest of futures. Your help is greatly needed and much appreciated, and will leave an indelible impression on countless lives.
HRF Teams Up To Help The People of Badakhshan
The devastating landslides in the Argo district of Badakhshan province in Afghanistan on May 2, 2014 claimed over 2000 lives and left hundreds more homeless. The affected area is located in one of the poorest and most remote regions in the country and aid has been slow in reaching the isolated mountain community, which is still reeling from the effects of the landslides. Given the enormity of the disaster and the urgency of the circumstances on the ground, HRF felt this was a high priority which required prompt action and determined that collaboration would maximize impact and reach.
In the days following the calamity, HRF and two other Afghan focused nonprofit organizations, The Children of War (TCOW) and Raqim Foundation, launched a joint emergency appeal in order to provide timely assistance to the victims – including many newly orphaned children – and created a Badakhshan landslide relief fund to help with the immediate needs of the numerous people impacted by this unfortunate event.
Thanks to the outpouring of support from our generous donors, we were able to raise just over $20,000 collectively – used to purchase 700 gas cylinders with cooktops/light/heater attachments and 700 large buckets, which were personally delivered by TCOW to the disaster zone, and provide cash to some of the survivors who continue to live in makeshift tents. We are deeply grateful to TCOW for organizing this relief effort and overseeing the successful distribution of vital supplies to the neediest families.
We thank you again for your compassion and generosity and ask you to continue keep the people of Badakhshan in your thoughts and prayers. Their situation will remain precarious for months to come, but you helped bring them tangible and immediate relief during a difficult time when they're still struggling to come to grips with this terrible tragedy.
Badakhshan, Afghanistan Emergency Appeal – May 2014
We are making this appeal to help the thousands of people whose  lives have been shattered by the devastating landslides in Badakhshan  province in northern Afghanistan last week. The scale of this tragedy is enormous. More than 2,000 are presumed dead and countless more have  been displaced.
Emergency efforts are underway to help those who survived this calamity,  but relief assistance has been slow in reaching the stricken area due to  the rugged terrain – Badakhshan is one of the poorest and most remote  regions in the country. Potable water, food, medical supplies, clothing,  shelter, and other essentials are still very much in short supply. The  situation on the ground is truly heartbreaking.
To help provide for the immediate needs of the many people impacted by this disaster, HRF has established a Badakhshan landslide relief fund  and we encourage you to make a donation in any amount at http://www.hrfcares.org/donate/.  Your generous contribution will provide a lifeline of  help and hope for the crowds of frightened men, women and children desperately awaiting aid. We thank in you in advance  for your support and ask you to keep the people of Badakhshan in your thoughts  and prayers.
Winter Supply Drive at the Homaira Rahman School
In December 2013, Ms. Cheryl Garner and her colleagues graciously organized a food and clothing drive in support of the Homaira Rahman School. They personally delivered coats, school supplies and food to the students to help them cope with the harsh winter in Afghanistan. With the temperatures dipping below freezing, the children were delighted and welcomed these timely gifts as a blessing. We are extremely humbled and thankful to Ms. Garner and her associates for this incredibly kind gesture.
HRF's 2nd Annual Online Flash Fundraiser held on December 7th & 8th 2013
The 48-hour Flash Fundraiser has ended, but our effort to help disadvantaged children break the cycle of poverty through education continues. The two-day online appeal came to a close officially on Sunday, December 8 at midnight, with a flurry of last-minute donations that pushed the total past $10,000. We are deeply appreciative of your support and for taking the time to make this event a success and a momentum builder. Through the power of social media and the collective action and determination of our enthusiastic supporters, we were able to generate a substantial amount of money for the Homaira Rahman School, which opened in Kabul in September 2013. We also had the opportunity to share our story across a vast network of connected family, friends and colleagues, and raised awareness for the plight of Afghan orphans, who are vulnerable to neglect, exploitation and abuse.
We would like to express our sincere gratitude to everyone who contributed and to all who urged friends and family to do the same. Every donation counts and will provide for the educational expenses of children who need it most. Please continue to support our cause.  To make a one-time or recurring donation, please visit http://www.hrfcares.org/donate/.
Homaira Rahman School Opens in Kabul – September 2013
We are pleased to announce the official opening of the Homaira Rahman School. Through your generous contributions and in close partnership with the Orphans and Widows Association (OWA), the Homaira Rahman School opened its doors on 22 September 2013.
The facts:
· 50 students, in grades 1-4 began classes in late September 2013, and will normally follow a Saturday through Wednesday school week.
· 25 additional children have been enrolled in the month of October, bringing the final total to 75 students in grades 1-4. The school will expand to offer fifth and sixth grades in the next two years.
· Students will attend Math, Dari, English, Computer classes, and Religious studies classes, which were approved by the Afghan Ministry of Education.
· Your contributions support meals, supplies and a staff that includes a school principal, 5 teachers, a cafeteria staff, a school bus driver, and a security guard.
· The initial set up costs for the school totaled approximately $7000 and included the purchase of desks, chairs, computers, bookshelves, cafeteria tables, cafeteria and kitchen supplies, bathroom supplies.
· With your continued support, we will focus our future efforts on not only improving the Homaira Rahman School, but also creating opportunities to increase enrollment.
A ribbon-cutting ceremony celebrating the school's completion held a week earlier, on September 16, attracted a large crowd of attendees and featured speeches from Mr. Latif, who selflessly donated land and built the school; representatives of the Orphans and Widows Association (OWA), School administrators; Abdul Sabour Ghofrani, a spokesman from Afghanistan's Ministry of Education; and HRF President, Roya Rahman.
We would also like to take this opportunity to express our gratitude for your generosity in support of the Homaira Rahman School. Your involvement ensures a bright future for them and for their country. Thank you for making a difference!
Homaira Rahman School- Spring 2013 Update
With winter behind us, construction at the Homaira Rahman School is back in full swing and should be completed later this year. Thanks to our gracious benefactor we now have an entire building – not one floor as originally planned – in which to operate the school. Much work has already been done on the two-story structure, which adjoins two separate buildings not connected with the Homaira Rahman School. The construction crew has also started on the interior, where classrooms, a cafeteria, recreational spaces and restrooms are being built to meet the children's diverse needs. Attention to detail will therefore be very important. We feel it is our responsibility to create an atmosphere conducive to learning which will motivate each student to reach his or her full potential – and this includes the actual physical setting. Our partner in this project, the Orphans and Widows Association (OWA), has also begun assembling staff that will oversee the internal day-to-day operations of the school, and is canvassing neighborhoods in Kabul to find prospective students.
While this project continues to move along swiftly, we need your continued support and constant encouragement to ensure that the school's construction is completed and that the children will always have the necessary tools to succeed and grow. Your monthly or annual sponsorship will provide books, educational materials, school supplies, computers, desks, tables, chairs, food, and will enable us to bear all of the ongoing administrative and infrastructure costs needed to support our activities.
We are pleased with the progress so far and realize that none of this would be possible without your enthusiasm and devotion.
HRF's 1st Online Flash Fundraiser Generates Over $15K For The Homaira Rahman School- December 2012
HRF and our orphans are profoundly thankful for your generosity. In our first 48-hour online Flash Fundraiser, we have managed to raise over $15,000 to benefit the Homaira Rahman School in support of its mission to empower vulnerable children in Afghanistan through education. In addition, we have added 10 new monthly sponsors and 3 more annually to our growing sponsorship list. If you are interested in becoming a project sponsor, please email us at info@hrfcares.org for details.
You, our HRF fans and friends, have made this possible. You are our heroes. Your contributions have created opportunity, hope, and most importantly a fighting chance for these children. Faced with overwhelming adversity, our orphans at the School will have the opportunity to learn and challenge themselves – with the hope of becoming the heroes we will one day admire.
Please continue to donate whenever you are able to do so. Our work and your support continue to matter.
Homaira Rahman School Project
A generous benefactor and philanthropist donated an entire section of a school he is constructing in Kabul, Afghanistan to HRF. This area will be used to establish the Homaira Rahman School, serving grades 1-6. For this effort, HRF will collaborate closely with the Orphans and Widows Association (OWA), a trusted and experienced US-based nonprofit partner, to establish and operate this school. For more information about this project, please click here.
HRF Learning Center in Kabul Takes Shape
HRF is pleased to announce that the recently established Homaira Rahman Library at the Orphans and Widows Association (OWA) in Kabul has evolved into a dynamic center for learning and will henceforth be known as the HRF Learning Center. The Learning Center now houses a library and an on-site computer lab which gives the children skills that will ultimately allow them to generate income and become self-sufficient.
In a rapidly changing world, Afghan orphans are especially vulnerable. They will need to master an array of skills in order to compete and succeed and contribute to their families and communities in the near future. To meet these diverse needs and with funds provided by HRF, the center in October 2010 hired an expert who will teach computer skills and English for up to 150 children in this warm and safe environment. The instructor will conduct lessons on a full-time basis five days a week, 5-6 hours per day.
We are extremely encouraged by this latest development that helps uplift the most neglected children in Afghanistan and gives them a chance at a hopeful future. A well-rounded education is critically important to a child's social integration and overall well-being. Thanks to the kindness of our supporters, the HRF Learning Center will continue to flourish and offer precious opportunities for children to think and dream of a life beyond the narrow confines of the school/orphanage. HRF will continue to provide resources to help maintain it.
HRF´s Annual Fact Finding Mission to Kabul, Afghanistan
HRF President Ms. Roya Rahman embarked on a self-financed trip to Kabul, Afghanistan in May 2011 to review the organization's current efforts and assess future projects in support of orphans in need. While in Kabul, she visited the children and met the recently hired (OWA) computer instructor, who was eager to contribute to a better future for the children. The proud students likewise were very excited to demonstrate their newly acquired skills at the HRF Learning Center.
On behalf of HRF, Ms. Rahman purchased and donated seven additional computers, a printer, classroom furniture and an assortment of books to the existing facility. To accommodate additional students, build collaboration, and allow hands-on participation for the children, this Learning Center has now relocated to a larger area at the OWA. Ms. Rahman also had an opportunity to share HRF's story and vision in an interview with NBC's Atia Abawi.
HRF Donates Funds to Keep School for Orphans Open in Jalalabad
In March 2011, HRF contributed a total of $3,500 to pay for the monthly operational expenses of the Mir Mohammed Yusuf School located in Jalalabad, Afghanistan. The school is part of Project HOPE (Help the Orphans be Productive and Educated), which is a program led by International Orphan Care (IOC).
Over 230 students, including boys and girls ages 5-17, attend the K-12 and vocational classes offered at the school, while a total of 12 teachers teach English, math, computer, carpentry, tailoring, embroidery and bicycle repair courses. Last year, the facilities for the school's vocational and mathematics courses were completed.
IOC is a non-profit, non-sectarian, non-political, humanitarian organization incorporated in California in 1993 and qualified as a 501(c)3 charitable organization. The mission of IOC is to provide education, healthcare, nutrition and vocational training to the children of Afghanistan so they can be healthy and productive members of their community. In addition to the school in Jalalabad, IOC supports schools in Herat and medical clinics in Deh Sabz and Dogh Abad.
HRF Takes Part in "An Evening in Kabul" at George Washington University
"An Evening in Kabul" was a cultural event that took place in February 2011, showcasing the artistic talents of various Afghan organizations, poets, artists, musicians and students. During this memorable evening, hosted by the George Washington University Afghan Students Association (ASA), HRF presented its mission statement, goals and objectives of helping as many deprived Afghan orphans as possible. HRF's message reminded everyone of the constant suffering endured by the disadvantaged and needy throughout Afghanistan.
In an effort to raise awareness, in addition to an oral presentation, HRF provided an assortment of informational handouts to the audience. During this evening HRF raised funds through the sale of T-shirts, HRF ribbons, and tins of our magnificent assortment of teas, generously provided by Kuval Select. Thanks to the generous contributions of attendees, HRF received over $2,000 in donations.
Drew Sohn, founder of Kuval Select, and Scott McNary, his business partner, were also in attendance and graciously served tea samples to event-goers.
Fall Festival at Bull Run Park Manassas, Virginia
In October 2010, HRF delivered smiles on children's faces during the fall festival hosted by Afghan Education for a Better Tomorrow (AEBT). HRF hosted a face painting booth filled with volunteers who hand-decorated each child's face with flowers, hearts, butterflies and dragons. The hundreds of festival attendees were treated to a wide variety of delightful authentic Afghan cuisine, entertained by talented musicians, a fashion show, art shows, and were enlightened by notable speakers and poets. We were thrilled to participate and to have this opportunity to inform the community of our long-term goal of establishing a school for orphans in Afghanistan.
Winter Campaign at Sana Orphanage
HRF continues its financial support of the Sana Orphanage – A total grant of $2,500 was extended to Sana in the early part of this year. The money allowed Sana to provide the orphanage with essential daily necessities such as clothing, food, and helped improve their quality of life by expanding educational opportunities for over 50 children. Like many orphanages across Afghanistan, Sana is struggling to provide for the most basic needs of children in its care and they work tirelessly to ensure a better future for them. Securing sustainable sources of funding is an enormous challenge. HRF is committed to using its resources to help under-funded and under-staffed orphanages such as Sana provide educational supplies, food, clothing and medicines to its orphans. Through the generous contributions of our supporters, we will to continue to lend a helping when needed. Please find out how you can help through our website and donation program.
HRF's First School for Orphans, a Step Closer to Reality
As we look to the remainder of 2011 and into 2012, HRF hopes to lay the groundwork for the establishment of its first orphans' school. As the Afghan population continues to grow and civil strife unfortunately remains a reality in Afghan life, the need for such a school could never be more critical. A generous contributor has expressed a strong desire to donate land in Kabul Afghanistan for this ambitious effort and HRF is closely working with them to bring our dream of building this school to fruition. As you can imagine, this challenging multi-phased project will be burdened with significant costs and HRF will launch a yearlong fundraising campaign to ensure the project's long-term success. Please consider donating to HRF, and stay tuned for additional information on upcoming events where you may find opportunities to help our efforts.
HRF featured on Voice of America
"Tragedy in the US Leads to Hope for Thousands in Afghanistan"
To read the article, please click here.
HRF E-News | Fall 2010:
HRF Spring 2010 Raffle, April 4th thru June 4th
Our very successful raffle resulted in over $5000 in donations, culminating in a drawing on June 5, 2010, graciously hosted by The Reserve in Washington DC. HRF's spring campaign helped support the Orphans & Widows Association located in Kabul, Afghanistan. Through the generous contributions of our supporters, HRF provided funds to OWA which enabled them to purchase books, classroom furniture, audiovisual equipment and computers to help advance the education and development of some 150 orphans. HRF will also continue to provide resources and help maintain a children's library dedicated to Ms. Homaira Rahman that we helped establish in late February 2010.
HRF offered the following donated prizes to raffle contestants:
Grand Prize: Asus Eee PC Netbook
1st Place: $300 US Airways Gift Card
2nd Place: $200 Visa Gift Card
3rd Place: $150 Amazon.com Gift Card
Raffle Winners
Grand Prize: Mamoon Zikria
1st Place: Mitra Madani
2nd Place: Sheila Anwari
3rd Place: Victoria Yaqub – Mrs. Yaqub generously donated her prize to HRF
HRF's Fact-Finding Trip to Afghanistan
HRF President Ms. Roya Rahman traveled to Afghanistan in late April 2010 to review the organization's current efforts and assess future projects that help support orphans in need. She visited different orphanages in Kabul and Kunduz, including a visit to the children's library that is dedicated in Homaira's name. This library, which was established by the Orphans and Widows Association, opened on February 26, 2010 in Kabul. It provides books, audiovisual equipment, computers and periodicals to help advance the education and development of some 150 orphans. Ms. Rahman's stay in Kabul included stops at Jahan Orphanage, where HRF sponsors 11 children, and Mehan Orphanage, where Homaira herself sponsored a child. Through her travels in country, Ms. Rahman researched possible sites for building a school for orphans in both Kabul and Kunduz. Given the scope of this pending project, HRF will explore developing collaborative partnerships with one or more related non-profit organizations that are contributing positively to the plight of Afghan orphans.
HRF Tax Exempt Status Approved by the IRS

HRF is proud to announce that our tax exempt status has been approved by the Internal Revenue Service under Section 501 (c) (3) of the Internal Revenue Code. The effective date of exemption is April 7, 2009. Your contributions to the Homaira Rahman Foundation (HRF) are now tax deductible.
Kuval Select to Honor Homaira's Legacy


Kuval Select, the premiere one-stop shop for premium gourmet select coffees and teas, will be developing a special tea line dedicated exclusively to honor Homaira Rahman's legacy and the cause she was so passionate for during her life: the orphans and needy children of war-torn Afghanistan. The Homaira tea line which will contain an assortment of flavors and aromas will be available for sale in the near future.
First Annual Winter Campaign
Winter supply distribution at Jahan & Sana Orphanage, December 2009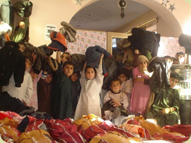 With the help of an ever growing donor community, we were fortunate to complete two very important projects during our first annual Winter Campaign. In a country experiencing extreme weather patterns and a struggling public infrastructure, we felt immediate support to providing basic needs for Afghanistan's orphans should be our priority. These are children who have lost at least one parent and have no other adequate means of support and protection. Accordingly, we partnered with two deserving organizations — JAHAN operating in Kabul and Sana Orphanage in Kandahar — to provide their orphans with desperately needed clothing, blankets, and winter accessories, such as hats, gloves and socks for the winter months.

Specifically, HRF provided contributions of $2700 for Sana, which reached 50 orphans, and $7020 for JAHAN, which impacted 83 orphaned families (415 children and widows), included a one year sponsorship for eleven orphans, and will help purchase clothing and blankets for a girls' orphanage in Karte 4, Kabul. While we recognize that there is still so much work to accomplish, we were grateful for the opportunity to support at least 500 orphans and widows in need through these dedicated organizations.
HRF segment on Voice of America (VOA) Ashna TV aired December 27, 2009
A segment about HRF was aired on Voice of America's Ashna TV on December 27, 2009 and included Dari and Pashtu interviews.
HRF's Official Launch


On September 22, 2009, members of the Washington DC Metro Area donor community attended the official launch of the Homaira Rahman Foundation (HRF). Hosted by the HRF board of directors, this important event was used to formally announce the foundation's existence and present its charter. Held at George Mason University's Arlington Campus, the evening included a presentation highlighting HRF's mission, its strategy, and forthcoming projects to support orphaned children in Afghanistan. Several poignant thoughts were also offered by close friends and family who dedicated their efforts to the organization's namesake – Ms. Homaira Rahman. HRF received nearly $6000 in generous donations from supporters.