Ms. Homaira Rahman
HRF was established in April 2009 in honor of Ms. Homaira Rahman, who on July 4, 2008, had her very young life tragically cut short. While there is no way to explain this senseless tragedy, both friends and family agreed this foundation was a worthy tribute to honoring her legacy. It is a testament not only to Homaira's giving nature, but more importantly to her ability of inspiring others to support worthy causes.
Up until her death, Homaira's experiences were not particularly newsworthy. She was born in Virginia to Afghan Immigrants escaping the ravages of a war that consumed their country. She was an American, an Afghan, an Afghan-American. Like her generation, she was part of a hybrid culture—one that absorbed all aspects of both societies.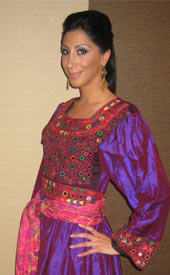 She was loved by many, and her loss will be felt by many. She was beautiful in every way—with a radiant smile that brightened the day of all who encountered it. She was a selfless person, always giving more of her kind nature than she ever received. She was a talented young professional with a full life ahead of her. She was loved by friends and family alike and she always saw the very best in people.
Homaira, a shining light who always offered her hand of reassurance. She was both a source of comfort and empowerment – always there to assist others in their professional and social activities. She connected with them instantly, her optimism and encouraging demeanor unparalleled. Homaira graced her community with a lasting impression. A philanthropist who always extended a hand to those in need, to fellow friends, and to family.
Homaira obtained a bachelors degree at George Mason University. She progressed quickly to become a senior Human Resources specialist and remained an advocate of multiple humanitarian causes. Through some of these efforts, she espoused a strong belief in the value of education – particularly as it concerned the plight of Afghanistan's orphans.
Learn More About HRF: